§ Returning to Russia
The extract from Krasnoyarsk's church metric book about Nikolai Rezanov's death
March 14, 1807
The third part
The dead
№
Date
Who exactly died
Age
The reason of death; where was buried
Male
Female
7
14
In the city
March
Major-general, cavalier Nikolai Rezanov
40
From fever. Confessed
and administered to sacrament.
Buried at the church.
The priest Ivan Slovtsov
Comments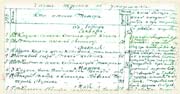 In the memories of Krasnoyarsk hereditary inhabitant I. Parfentyev there are relevant details about Rezanov: "…He died in the house of Rodyukov which still (in 1891) stands on the same place*. He was committed to the earth in two weeks, since he was portrayed by the painters with the aim to send to St. Petersburg. I heard, that for a monument from Russian American Company in the beginning of 30s there was assigned 100 thousand in banknotes in memory of unforgettable admiral's merits to Motherland. However the money was received by Ivan Galkin, the chairman of the province government. I can not judge weather the monument was of this value and I leave to do it to future generations."
According to Parfentyev, N. Rezanov was buried in the yard of Voskresensky Church at the most honorable place — directly at a window of conch along the eastern wall of the building (in 40 meters from the center of northern wall of the present Concert Hall). It is interesting to note that the majority of people from Krasnoyarsk did not allow the priest Nikodim to move the monument which supposedly had prevented divine service and preservation of godliness round the temple: "Bishop Nikodim admitted that the monument to admiral Rezanov, which is placed in the church yard, is inappropriate, because during the divine service curious spectators who are standing in caps in front of the window, smoke tobacco, talk and laugh loudly. We ( I. Parfentyev and the deputy of the city council Yakovlev) answered that the monument could not be removed without the tsar's authorization and that it was better to block up the window with bricks. Subsequently was approved by Right Reverend. In all churches windows facing east were blocked up with bricks as there was enough light from other windows."
Originally, according to Slovtsov, a modest brick monument with a pig-iron gravestone plate was mounted at Rezanov's tomb and in 1831 it was replaced by a monument as a Corinthian vase on granite pedestal. On a pig-iron round plate of a monument bordered with laurel wreath there was a cast inscription: "Summer 1831- August 16th to raise a monument by support of Russian-American company for unforgettable merits of the real chamberlain Nikolai Petrovich Rezanov who died returning from America to Russia in Krasnoyarsk on March 1, 1807 and was buried of 13 of the same month". It was the first in Krasnoyarsk's history memorial monument on the tomb of the participant of the first Russian round-the-world expedition, diplomat, writer and organizer of Northern America at the beginning of XIX. It was demolished in 1936 during the reconstruction of the church building for an aero club.
---
* According to Parfentyev, this building which was later inherited by doctor Mozarov was situated at Starobazarnaja square, at a corner opposite the state chamber. There is a modern block of flats with a branch of picture gallery on the first floor at this place nowadays.
Translated by Olga Krasnova