§ Travelling to California. Conchita.
Maria dela Concepcion Marcella Arguello. Biography.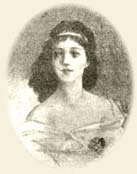 Maria dela Concepcion Marcella Arguello was born on the 10th of February 1791 in the family of commandante presidio of San Francisco Jose Dario Arguello and Maria Ignatia Moraga de Arguello.
Up to 1829 Conchita stayed with her parents. Together they moved from San Francisco to Santa Barbara, later to Loretto, from Loretto to Gvadalahara and then returned back to Santa Barbara.
Maria dela Concepcion had been waiting for her fiance for thirty years. The best grooms of California asked for her hand, but all of them received an adamant refusal. After having gotten the news of Rezanov's death, Maria dela Concepcion devoted herself to charity and the education of Indians and was called La Beata (Blessed).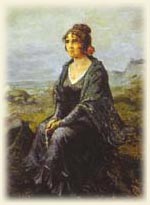 In the beginning of 1840-s she joined the third order of the secular clergy. After the foundation of Saint Dominik's monastery in 1851she accepted monastic dignity under the name of Maria Domingo. Maria dela Concepcion died on the 23rd of December 1857, aged 67. She was buried at the monastery cemetery and in 1897 was reburied at the special cemetery of Saint Dominik order. The historical society of California erected a stele in memory of the romantic love near her grave.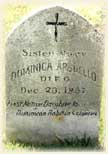 Translated by Olga Krasnova